Reflections: The Anatomy of Form

Skidmore, Owings & Merrill (SOM) are responsible for some of the world's most technically and environmentally advanced buildings and significant public spaces. Their approach is highly collaborative and interdisciplinary. Working from a network of creative studios across the globe, they apply international expertise at a local level.
The Design Museum
Kensington, London UK
6 September 2019 - 1 October 2019
Image taken by Felix Speller for the Design Museum.
Project Manager: Alex Boyes (AB Curatorial Design)



Designers: SOM Architects

Head of Exhibitions: Elise Foster Vander Elst

Content type: Architecture, Design, Technology

On show for the first time in London, Reflections: The Anatomy of Form presented 31 scale models demonstrating different building systems and designs by SOM architects.
The exhibition explored the relationship between architectural built form, those found in nature, and the ways in which both respond to the laws of physics. Working closely with SOM's London team it was successfully reinterpreted for Design Museum audiences, whilst fulfilling broader aspirations as part of the London Design Festival 2019.
Image taken by Felix Speller for the Design Museum.
"As in nature, the anatomy of buildings can be classified. The models presented in the exhibition are unadorned structural systems; each was designed as a distinct response to the forces of nature at a different scale, in turn resulting in a form that is unique," SOM Architects.

Collaborating closely with the SOM London based team, this exhibition intelligently responded to the Design Museum's Central Atrium space. A bespoke mirror-like approach provided flexible access for visitors, whilst simultaneously protecting the Grade II listed building and delicate hand assembled models.
Images taken by Felix Speller for the Design Museum.
Exhibition design was achieved via a cradled-step network of reflected illuminated panels, allowing visitors to enjoy 360 degree perspective views of each of the 31 scale models at their own pace/height.
In addition to this, there were dedicated QR codes adjacent to each model for mobile phone users to access more detailed information online whilst taking pictures of the photogenic display.
As the Central Atrium space is also one visitors first encounter when entering the Design Museum (and one frequently made use of during special Events/Programming), special attention was made to ensure all relevant stakeholders were consulted throughout production milestones. Its intellligent design able to be quickly deassembled/reassembled with minimum cost/time during programming change over periods.
It wa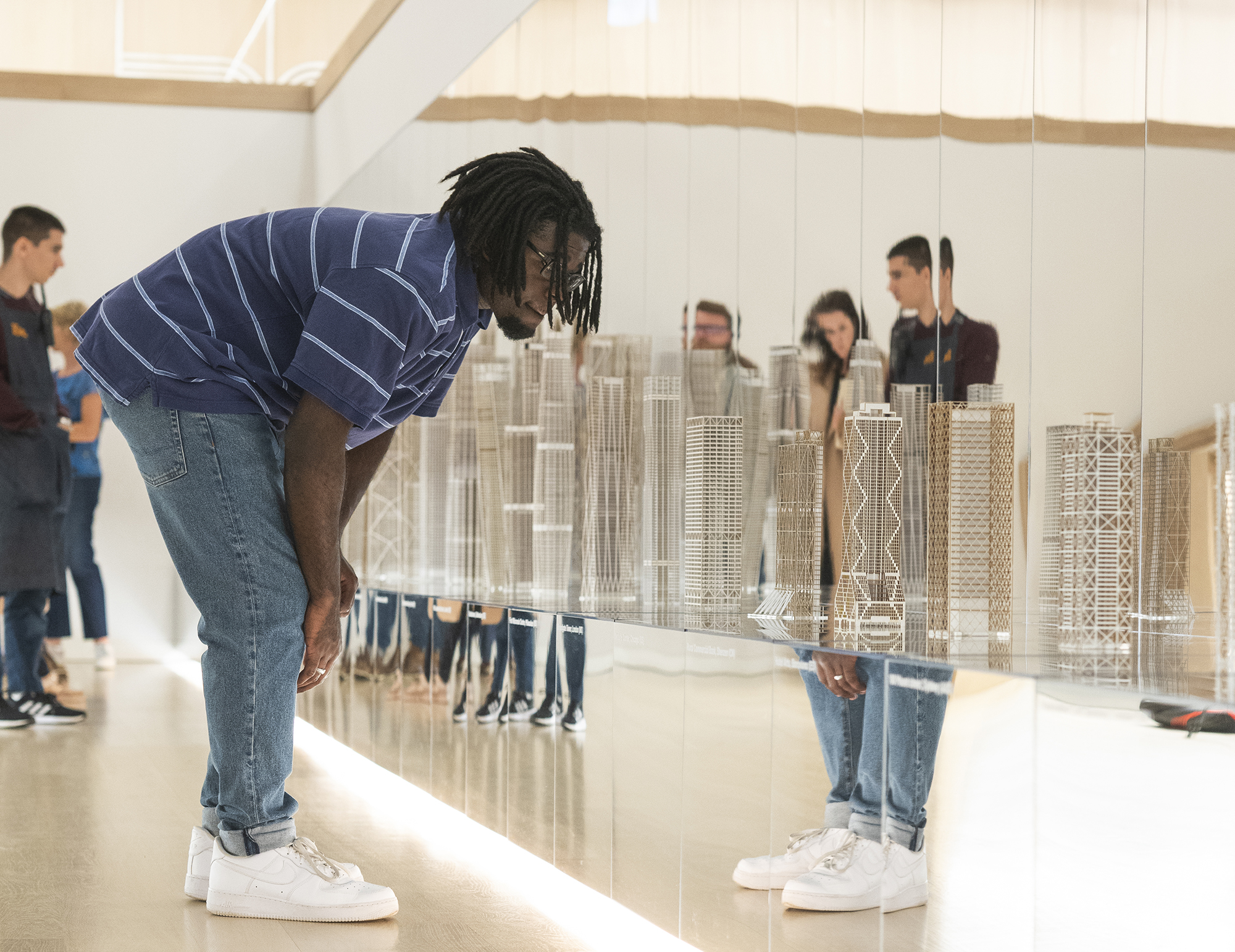 Image taken by Felix Speller for the Design Museum.